Peru prosecutors seek 35-year jail term for ex-president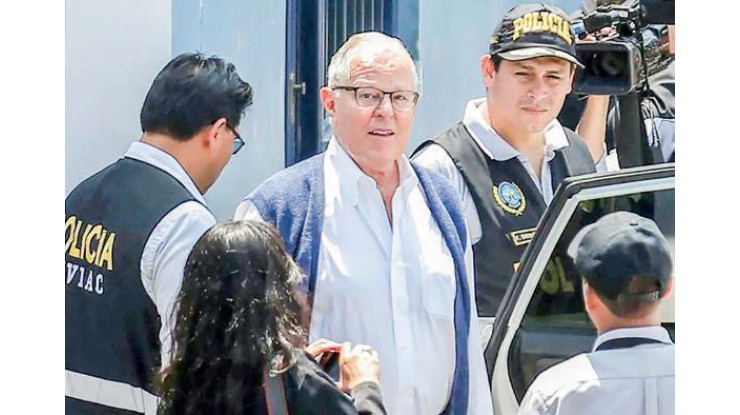 Former Peruvian President Pedro Pablo Kuczynski (2016-2018) is detained by police in Lima on 10 April 2019. PHOTO: AFP
PROSECUTORS in Peru on Friday requested that former president Pedro Pablo Kuczyn­ski be sentenced to 35 years in prison on charges of corruption related to the massive Odebre­cht scandal.
Kuczynski, 84, is accused of money laundering and form­ing a criminal organization that allegedly received $12 million from Brazil construction giant Odebrecht for secret consultan­cies.
Odebrecht, which has since changed its name to Novonor, admitted to paying hundreds of millions of dollars in bribes throughout Latin America to secure huge public works con­tracts.
Kuczynski allegedly used his financial advisory compa­nies to collude with Odebrecht.
"He is totally calm, he is confident the situation will be resolved and that no one can link him to any acts of corrup­tion," the former president's lawyer Julio Mindolo told RPP radio station.
Authorities have been in­vestigating the case against Kuczynski for five years. After spending three years under house arrest he was granted conditional release in April 2022.
Mindolo denied that former president Alejandro Toledo in­criminated his client in testimo­ny he gave to a court earlier in the week.(AFP)
Source ==> Global New Light of Myanmar