BBC chairman Richard Sharp has resigned after breaking rules over dealings with Boris Johnson ahead of his appointment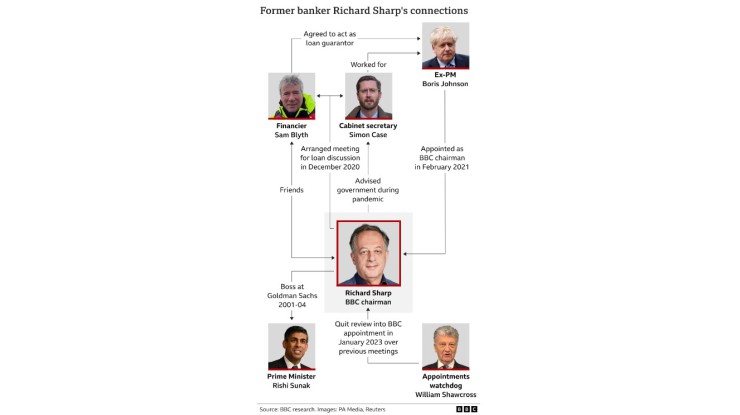 A report found Mr Sharp created the appearance of a conflict of interest by not fully disclosing his knowledge of the ex-PM's personal finances.
His position was scrutinised after it emerged he tried to secure a high-level government meeting for a businessman offering Mr Johnson financial help.
Mr Sharp defended his conduct but said he did not want to be a distraction.
A critical report led by barrister Adam Heppinstall was published on Friday, after months of speculation about Mr Sharp's position and a row about BBC independence.
The probe was set up after reports in the Sunday Times revealed Mr Sharp, a close associate of Mr Johnson, had played some role in the PM's personal finances at the same time as he was seeking to secure the senior BBC job.
In late 2020, Mr Sharp sought to arrange a meeting between Cabinet Secretary Simon Case and Sam Blyth, a distant cousin of Mr Johnson who had offered to support the PM financially, after reading press claims he was struggling to make ends meet.
The ex-investment banker and Conservative Party donor had already applied for the senior BBC job when he approached Mr Case and was appointed a few months later.
• BBC chairman resigns: Sharp's statement in full
• Analysis: Did BBC boss tell Sharp he had to go?
• Richard Sharp report at a glance
The report found he had failed to disclose two potential perceived conflicts of interest: first, by telling Mr Johnson he wanted to apply for the BBC role before doing so; and second, by telling the PM he intended to set up a meeting between Mr Case, the country's most senior civil servant, and Mr Blyth.
It notes that Mr Sharp does not accept the first conclusion, but he has apologised for the second, though described it as "inadvertent and not material".
The report found "there is a risk of a perception that Mr Sharp was recommended for appointment" because he sought to assist the PM in a private financial matter "and/or that he influenced the former prime minister to recommend him by informing him of his application before he submitted it".
It described his involvement in Mr Johnson's private financial affairs as "very limited" but concluded that it should have been declared anyway - even though the meeting between Mr Case and Mr Blyth did not subsequently take place.
Source==> BBC News