Anti-corruption commission office 9th anniversary celebration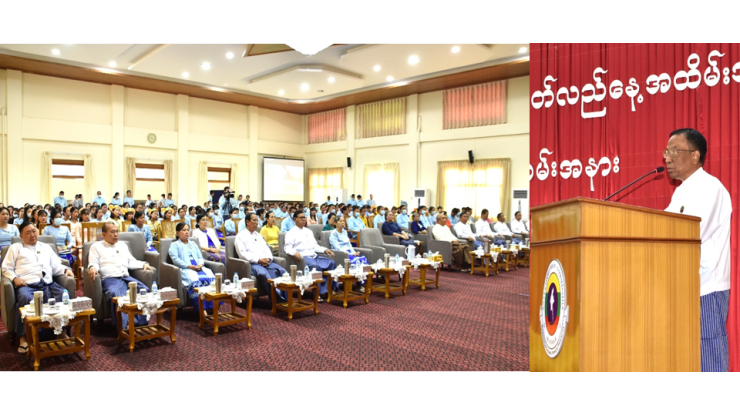 Nay Pyi Taw, March 10
The ceremony for 9th anniversary of Anti-Corruption Commission office was held in the meeting hall, at 09:00 and the Union Auditor General, Commission Chairman and his wife, Secretary, Commission members and their family; Directors General, Deputy Directors General, Directors, Deputy Directors and staff of Commission Office attended.
In the ceremony, the Chairman of the Commission delivered a speech that the staff are having a fun party to mark the 9th anniversary of the Commission. The Commission is doing its best to meet the welfare and social needs of the staff. One of the objectives of the anti-corruption law is to develop Clean Government and good government system as a national cause. It is the commission's national responsibility to develop a good governance system. It is important for staff to follow the Commission's Code of Conduct in their functions. He said that it is necessary to constantly observe and be upright the activities.
As the commission is carrying out the anti-corruption activities, simultaneously with three main functions: investigation, awareness raising and prevention. Special attention must be paid to awareness and preventive measures even before corruption occurs. He said that the public should be informed in many ways so that the public can be widely informed. He addressed that the next generation of student-aged youth must be taught the five precepts according to the tradition of Buddhists and the civil with the support of the relevant departments.
And then, Chairman, Secretary and Commission members gave the Grand lottery prizes under the programme of "Parents and Children, Teachers and staff Monthly Care and Assistance" and track suit shirts for the staff. It was successfully held with a dance performance, singing the songs and having lunch with the staff.