The Speech delivered by the Chairman of the Anti-Corruption Commission at the first meeting (Virtual Format) of the National Anti-Corruption Strategy Planning Steering Committee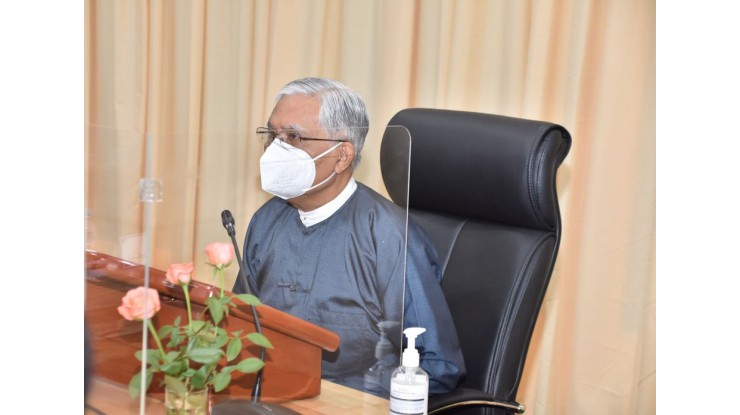 1. May all be auspicious. Special thanks to all steering committee members for attending the first meeting.
2. While the Commission has exerted significant efforts to combat widespread corruption in the country over the past three years, progress has been uneven. Corruption has ceased in some places and decreased in others, but in many areas, the situation remains unchanged. The Commission attributes this to the ineffective implementation of a nationwide anti-corruption strategy. Although the 2018-2021 anti-corruption strategy, crafted by the Commission, has seen an 85% success rate, it failed to engage the entire public, including businesses and public organizations. Therefore, to achieve the Millennium Development Goals, a comprehensive national anti-corruption strategy is essential. It will enable the government to lead the fight against corruption with the backing of political will.
3. On October 9th, the President's Office established a national anti-corruption strategic planning steering committee, which I lead, with authorized representatives from all three pillars participating. Starting today, we will address amendments, establish guidelines, and draft plans.
4. In today's meeting, I would like to emphasize two critical points for the development of a national anti-corruption strategy. Firstly, the strategy should not merely serve as a technical document dictated by authorized individuals. It should aim to garner support and encouragement from top leaders and the public, harnessing this momentum as the primary driving force in the nationwide fight against corruption. Therefore, the strategy cannot rely solely on splendid policies; it requires commitment from government officials, organizations, non-governmental entities, and various sectors. Hence, when forming the working committees for the National Anti-Corruption Strategy's development, it is essential to organize them systematically based on specific criteria.
5. Secondly, strategists must avoid both extremes: excessive ambition and routine procedures. An overly strict and worrisome strategy will not effectively address widespread or deeply rooted corruption; it will yield superficial results. Conversely, an overly ambitious strategy might exceed the country's resources and human capacity, fail to overcome formidable challenges, and become impractical, leading to public distrust and disappointment. Therefore, I emphasize the importance of everyone's participation in developing this strategy, a crucial reform for the country. We must strike the right balance between ambition and reality at every strategic level, prioritizing practical and tangible results.