President delivers keynote speech at International Anti-Corruption Day commemoration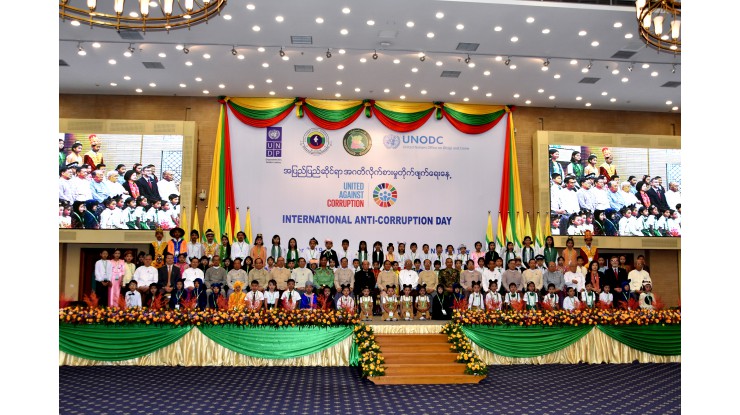 NAY Pyi Taw celebrated International Anti-Corruption Day at the Myanmar International Convention Centre-II yesterday morning and President U Win Myint delivered a keynote speech. Firstly, President U Win Myint delivered the keynote speech (which is covered in a separate news article). Next, Anti-Corruption Commission Chairman U Aung Kyi explained the implementation of the Anti-Corruption Commission's strategic plan. He said there are five areas in the strategic plan and they are (1) building strong foundations for effective prevention, investigation and prosecution, (2) integrity and developing skills cooperation n with domestic and international organizations in prevention and countering activities, (4) safeguarding national budget and assets and interest of all citizens, (5) creating a corruption-free economic environment. The ACC Chairman said that to establish these good foundations, the 4th law to amend the Anti-Corruption Law was enacted on 21 June 2018. He said to ensure comparability with the amended law, the ACC has drafted the Anti-Corruption Bylaw (Draft) and Whistleblower Protection Law (Draft) and had submitted it to officials concerned.
The ACC Chairman said 36 Corruption Prevention Units have been formed in Union Ministries and about 319 subordinate offices/sub-departments have been formed to communicate and operate with CPU Toolkits. He said six action plans to ensure conformity with CPU have been designated in these workshops. He said if every ministry could successfully follow the CPU process then corruption in Myanmar would decrease significantly and changes could be made to deliver civil servants from the dangers of corruption in the least damaging way possible. He said an inclusive anti-corruption process would further invigorate Myanmar's democratic transition. The ACC Chairman said because the CPUs are strengthening their work, departments are performing changes but businesses need to draft their own codes of conduct that resist corruption and practice honesty and accountability. Just in line with the motto 'We should all be united in fighting against corruption', public service personnel, businesses and CSOs should cooperate in coordination to eradicate corruption, implored the ACC Chairman. Next, a message from the UNODC Executive Director Mr Yury Fedotov was read by UN Resident Coordinator Ms Xiaojie. Following this, the President took a documentary photo with Pyithu Hluttaw Deputy Speaker, Amyotha Hluttaw Deputy Speaker, Union Ministers, attendees, UN Resident Coordinator, representatives from UNDP and UNODC, and award-winning students. He then observed the documentary exhibition relating to the anti-corruption processes. In the second part of the event, Nay Pyi Taw Council Chairman Dr Myo Aung delivered an address, officials from UNDP and UNODC explained eradicating corruption processes, and a video clip on International Anti-Corruption Day was shown. Afterwards, Union Minister for Education Dr Myo Thein Gyi, Nay Pyi Taw Council Chairman Dr Myo Aung, ACC Chairman U Aung Kyi and officials from UNDP and UNODC presented prizes to students who have won competitions in acting, composition and poetry to commemorate International Anti-Corruption Day. The event was then concluded. Present at the event were Pyithu Hluttaw Deputy Speaker, Amyotha Hluttaw Deputy Speaker, Union Ministers, Union Civil Service Board Chairman, Nay Pyi Taw Council Chairman, Governor of Central Bank of Myanmar, Anti-Corruption Commission Chairman, Myanmar National Human Rights Commission Chairman, Chairmen of committees from the Pyithu and Amyotha Hluttaws, Chief Justice of Union Supreme Court, Deputy Ministers, Deputy Attorney-General, Nay Pyi Taw Council members, Deputy Mayor and members of Nay Pyi Taw City Development Committee, Secretary and members of Anti-Corruption Commission, Chairman of Union of Myanmar Federation of Chambers of Commerce and Industry, Myanmar Press Council Chairman, department officials, ambassadors, persons from United Nations Office on Drugs and Crime (UNODC), United Nations Development Programme (UNDP) and international organizations, media professionals and other invited guests.