Speech given by the Chairman of Anti-Corruption Commission at the Workshop on the Drafting of Whistleblower Protection Law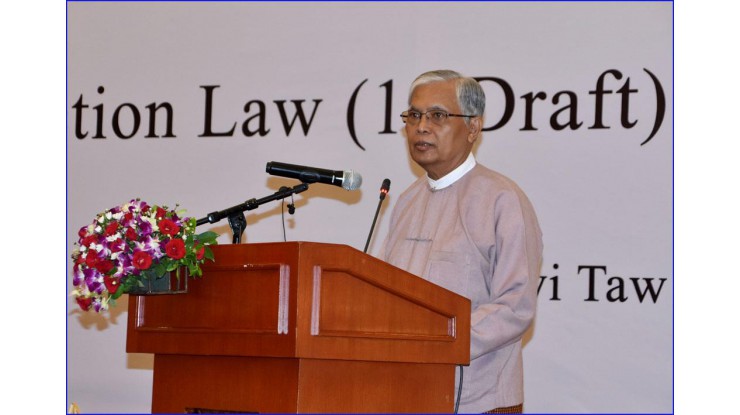 I am delighted to extend my heartfelt wishes to the Commission members, the distinguished representatives from respective Union Ministries, the esteemed country manager for Myanmar and the dedicated staff from UNODC, the esteemed visitors of the UNDP Office, and indeed, to all those who are gracing this event with their presence.
Myanmar ratified the United Nations Convention against Corruption in December 2012 and totally enforced in 2013. Consequently, in accordance with Article 33, each State Party shall consider incorporating into its domestic legal system appropriate measures to provide protection against any unjustified treatment for any person who reports in good faith and on reasonable grounds to the competent authorities any facts concerning offences established in accordance with this Convention.
In addition, the Myanmar Sustainable Development Plan (2018-2030) released by the Union Government in August 2018. Strategy 1.4 of the MSDP states that "Enhance good governance, institutional performance and improve the efficiency of administrative decision making at all levels", and strategy 1.4.5 states that "Review and strengthen anti-corruption related legislation, enforcement measures and policies, including strengthening grievance and whistleblower mechanisms." The desired outcome is to foster "greater honesty and accountability in various government sectors" as a strategic accomplishment. Grievance disclosure and complaint systems are described as "Strengthening grievance and whistleblower mechanisms" in Myanmar Sustainable Development Plan (2018 – 2030). Therefore, creating a strong institutional "Whistleblower Protection Mechanism" is essential for the success of MSDP. The designated entity to execute strategy 1.4.5 is the "Anti-Corruption Commission," uniquely positioned for this purpose. Additionally, the SDG 16.5, endorsed by the UN General Assembly in 2015, aligns directly with the Commission's mandate. SDG 16.5 is "Substantially reduce corruption and bribery in all their forms." Relying solely on Anti-Corruption Laws is insufficient for the continuous reduction of various forms of corruption. On one hand, we must ensure ample protection for individuals who come forward with accurate information; on the other hand, we must effectively incentivize and acknowledge to the whistleblowers' efforts through appropriate rewards. Only then will honest individuals be equipped to address dishonest colleagues effectively. As a saying goes, " If the thorn falls the leaf is pierced; if the leaf falls the leaf is pierced," a good government system and inclusive institutions at all levels are only possible if integrity prevails against corruption. Failing to achieve this will render good governance a mere illusion.
Consequently, the Anti-Corruption Strategic Plan (2018 - 2021) formulated by our commission in May 2018 encompasses Strategy 1.4; "Establishing Measures to Develop a Legal Framework Related to the Protection of Whistleblowers." The targeted timeframe for the completion of Strategic Process 1.4.1, titled "Processing for the Protection of Complainants and Whistleblowers," is set for 2019 / 2020.
Representatives from respective ministries
We hold a deep regard for our international commitments, and in line with the obligations of the Myanmar Sustainable Development Plan, the submission of a whistleblower protection law becomes imperative. Nevertheless, this law transcends its relevance solely to anti-corruption measures; it extends its significance to government departments, public organizations, and beyond. This legislation will play a pivotal role not only in addressing corruption but also in enabling individuals across governmental, public, and private sectors within a democratic governance framework to uncover and combat a spectrum of issues. These encompass money laundering, drugs trafficking, human trafficking, counterfeiting of food and medicine, scientific and technological fraud, occupational injuries, instances of sexual abuse, extortion, hierarchical bullying, and favoritism.
To ensure effective governance and uphold ethical institutions, it is imperative that we reject any form of corruption within every department and workplace. We must confront this issue with courage. By initiating these efforts today, we foster the prospect of establishing a robust governance system in the coming decade. During today's workshop, I anticipate that, as representatives of various departments, we will engage in discussions marked by good intentions and foresight. We will explore the ways to reconstruct the dignity of civil servants, envision a governance framework and working environment for the succeeding generation, and aspire to leave behind an ethical organizational culture and a commendable historical legacy. Allow me to conclude by urging all to think and deliberate candidly and impartially.