The Chairman of the Anti-Corruption Commission, Dr. Htay Aung meets with the District Officials and Entrepreneurs of Bagan – Nyaung Oo District (Mandalay Region)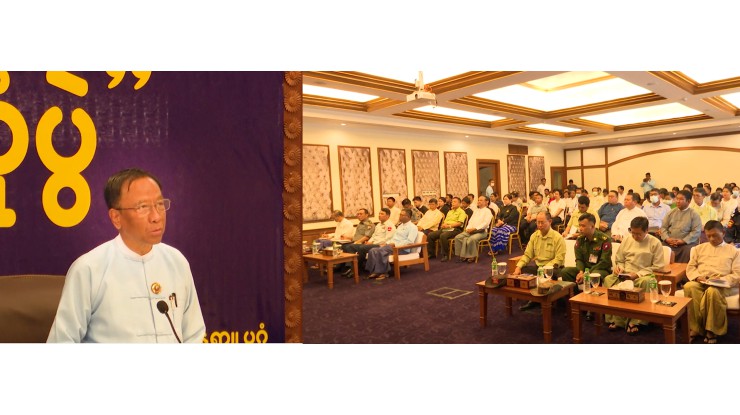 NayPyiTaw 7 April, 2023
The Chairman of the Anti-Corruption Commission, Dr. Htay Aung met with the District Officials and Entrepreneurs of Bagan – Nyaung Oo Region in the occasion of "Anti-corruption Awareness Session" at the meeting hall of Heritage Bagan Hotel in Nyaung Oo with the cooperation and technical arrangement of Mandalay Regional Government.
Firstly, Dr. Htay Aung addressed that the corruption is happening internationally, the fight against corruption is being widely implemented worldwide. There are altogether 17 goals in the Sustainable Development Goals (SDGs) of the United Nations, SDGs 16.5 targets for the substantially reduce corruption and bribery. As Myanmar is the member of the United Nations against Corruption (UNCAC), we are working for the anti-corruption according to the provision of UNCAC in line with our culture and customs. Now, the corruption is happening systematically in the form of Systemic Corruption. There is not only grand corruption but also petty corruption. Thus, we would like to carry out the prevention, awareness raising and investigation simultaneously. Especially we need to conduct awareness raising in order to prevent corruption before it happens. In doing so, in collaboration with union ministries, organizations and 14 State and Regional Governments, awareness session on the prevention of corruption are being conducted in a timely basis.
In order to improve awareness raising and knowledge sharing to the youths and students, teacher guide books for the various level of basic education and modules for the university level have been published and distributed with the help of the Ministry of Education. We are coordinating and negotiating with relevant departments to introduce anti-corruption education as lessons in the relevant courses. At the present, 37 Union level Corruption Prevention Units (CPUs) and 14 Region and State Level CPUs have been formed to carry out the prevention activities. Therefore, in places like Bagan – Nyaung Oo, where there are a lot of domestic and foreign tourists, by providing these services effectively, we will be able to provide more peace and satisfaction to the public. Chairman also said that the Public Feedback Programme (PFP), which is the task of the CPUs, must also be continued. Moreover, we need to carry out the Corruption Risk Assessment (CRA), to built mutual trust. Therefore, local organizations, government organizations, entrepreneurs and all the public should need to cooperate more. We will continue to conduct the awareness programme for the students to raise awareness and understanding of anti-corruption. He concludes that the government staffs must follow Ethics for Civil Service Personnel and the relevant departments.