Anti-Corruption Commission held a closing ceremony of Capacity Building Refresher Course No. (1/2023)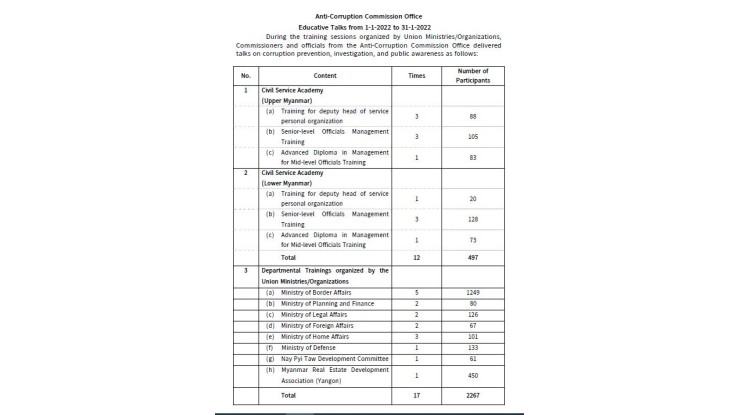 2 June 2023
The closing ceremony of the Capacity Building Refresher Course No. (1/2023) was held at the meeting hall of the Anti-Corruption Commission's office in Nay Pyi Taw, today at 9:30 a.m, and attended by the Chairman of the Commission, as well as the Secretary and Commissioners, Directors General of the Commission Offices, officials, and trainees.
During the closing ceremony, Chairman Dr. Htay Aung delivered a speech emphasizing the important of enhancing the quality of staff within the Anti-Corruption Commission. He mentioned that the course provided comprehensive training on various subjects including the Code of Ethics for Civil Servants, rules and regulations, law, orders and instructions, procedures and fundamental workplace concepts.
Dr. Htay Aung stressed the significant of staff members closely observing the following the instruction and points that should be emulated. He encouraged the trainees to approach their studies with a genuine desire to learn, rather than simply fulfilling their responsibilities. The Chairman highlighted that continuous learning and improvement are essential for commission office staff to become proficient, outstanding, and well-rounded professionals.
He further discussed the commission's commitment to employee development by conducting annual Capacity Building Training Courses, and refresher courses in English, Computer Skills and Investigation techniques. The Chairman expressed his belief that the experience gained from these courses would significantly enhance the skills and qualities of the staff members.
Dr. Htay Aung assured that the commission will continue to organize Capacity Building Training to enable the staff to carry out their duties effectively and efficiently. He emphasized the importance of adhering to the commission's Code of Conduct while performing their responsibilities.
The Chairman underscored that the previous function of the commission is to establish a clean government and promote good governance. He emphasized the need for diligent efforts to foster a positive movement towards achieving these goals.
Following his speech, the Commission Chairman. Dr. Htay Aung, proceeded to present prizes to the outstanding staff who had achieved first, second, and third place in recognition of their exceptional performance. In addition to the prizes, the Chairman also distributed certificates to the trainees who had successfully completed the course. With the presentation of prizes and certificates, the closing ceremony was successfully concluded.