All eyes on Turkey (TI News)
19/05/2023
The nation held its breath on Sunday as Turkey's historic presidential election unfolded, bringing with it a critical choice between twenty-year incumbent, Recep Tayyip Erdoğan, and his main challenger, Kemal Kılıçdaroğlu.
Tens of millions of people turned out to vote on election day, but neither candidate was able to secure a majority. Consequently, the election will head into a run-off at the end of May, prolonging a decision between democracy and authoritarianism.
Erdoğan is the longest-running president in the history of Turkey. During his tenure, the checks and balances have been dismantled, and violations of human rights have been normalised. These factors have led to increased corruption, as reflected in Turkey's decline on the Corruption Perceptions Index (CPI). It reached a score of 36 out of 100 in 2022, an all-time low.
Kılıçdaroğlu has emerged as Erdoğan's main challenger with calls for significant changes to improve Turkey's standards for democracy and freedoms as well as promises to address corruption and increase accountability. Many expected the end of the Erdoğan rule, especially given his administration's inadequate response to rising inflation and inaction following the devastating earthquakes that occurred in February. But him receiving 49.5 per cent of votes in Sunday's election suggests Erdoğan's popularity is driven more by ideology than by results.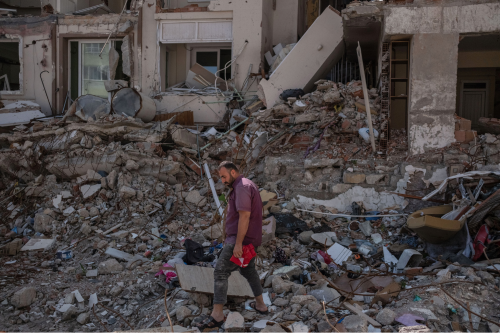 Against the backdrop of the presidential and parliamentary elections, a man traverses through the wreckage of buildings, a stark reminder of the destructive earthquake. Photo: Can Erok via AFP
Scrambling to secure the majority vote, Erdoğan is strengthening his links with smaller ultra-nationalist parties. It is still uncertain if Sinan Oğan, the leader of a right-wing alliance who came third in the election, will support Erdoğan or Kılıçdaroğlu in the second round and potentially swing the election.
Casting our minds back to previous elections in Turkey in 2018 and 2019, the lack of transparency as well as the role of the police in the electoral process was concerning. Several political party candidates were detained and, therefore, unable to campaign effectively. Distrust remains among opposition parties, who claimed there were irregularities during Sunday's vote.
This year's election once again highlights broader concerns in the country regarding election integrity. Throughout his presidency, Erdoğan has severely undermined institutions responsible for ensuring free and fair elections, and made significant changes to electoral law, permitting the use of state resources during the election period. What is more, without adequate mechanisms to monitor and control election financing, public funds are at risk of being misused, if they haven't already.
As the country prepares for the runoff, a main concern over media control remains – the Turkish government is said to control 90 per cent of national media, which disrupts voter access to impartial and unbiased information. And Erdoğan's administration implemented severe disinformation laws last year, which undermine independent journalism and restrict freedom of speech.
The integrity of this election remains the ultimate decisive factor between continued authoritarianism or a chance for democracy that many people envisage, both inside and outside of Turkey. Is a return to democracy on the horizon? All will be revealed on 28 May.
Source ====> Transparency International News