George Santos: Congressman pleads not guilty to fraud charges Published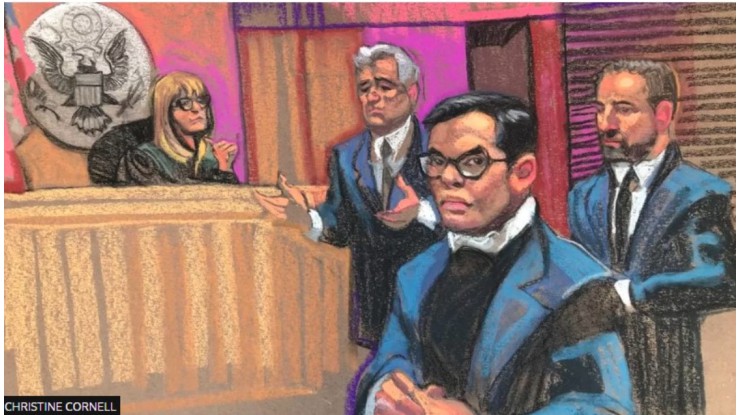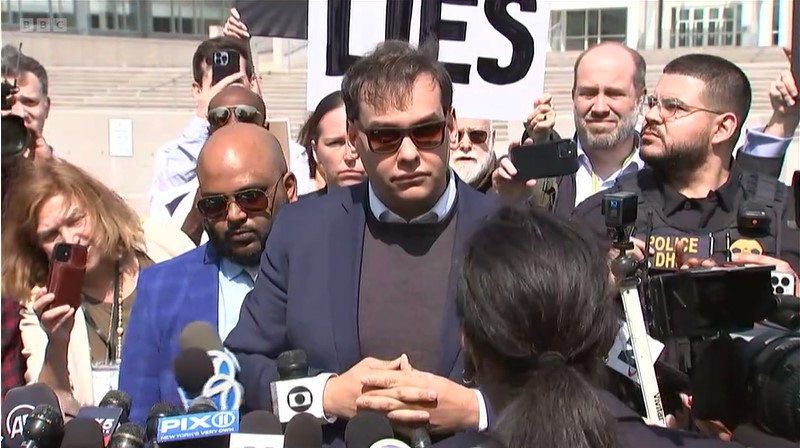 Santos claims government case is 'inaccurate'
Scandal-plagued Republican congressman George Santos has pleaded not guilty to more than a dozen federal charges, including fraud and money laundering.
The 34-year-old is accused of misusing funds, lying to Congress about his income and illegally receiving unemployment benefits.
Outside the New York court, he called the investigation a "witch hunt".
Since he first took office in January it has emerged that much of his biography was fabricated.
If convicted of the top charges, the New York representative could face up to 20 years in prison.
Mr Santos was released on a $500,000 (£400,000) bail bond, secured by three individuals whose identities were not released.
Outside the federal court in Long Island on Wednesday afternoon, a defiant Mr Santos said he would not resign, and vowed to "keep fighting" for his district.
"This is the beginning of the ability for me to address and defend myself," he said.
He will be confined to his home state of New York, to Washington DC and places in between. Other travel must be approved in advance.
The congressman spoke just once during the hearing, telling the judge "yes ma'am", according to the Associated Press. He was fingerprinted and had a mugshot taken. His next court appearance is scheduled for 30 June.
The 20-page, 13-count indictment alleges the Republican participated in three elaborate fraud schemes.
Who is George Santos and why is he in trouble?
What is George Santos accused of?
First, according to federal prosecutors, Mr Santos defrauded those who gave him money for his House of Representatives campaign, instead using the funds for personal expenses including luxury designer clothing and credit card payments.
Second, Mr Santos allegedly participated in an unemployment insurance fraud scheme, claiming Covid-19 government assistance despite earning a salary of $120,000 (£95,000) through his employment with a Florida-based investment firm - a firm that was shut down by the federal government in 2021 over allegations it was a Ponzi scheme.
Finally, prosecutors claim the Republican misled the Congress about his finances.
He faces seven counts of wire fraud, three counts of money laundering, one count of theft of public funds and two counts of making materially false statements to the House of Representatives.
US Attorney Breon Peace said the indictment "seeks to hold Santos accountable for various alleged fraudulent schemes and brazen misrepresentations".
"Taken together, the allegations in the indictment charge Santos with relying on repeated dishonesty and deception to ascend to the halls of Congress and enrich himself," Mr Peace said.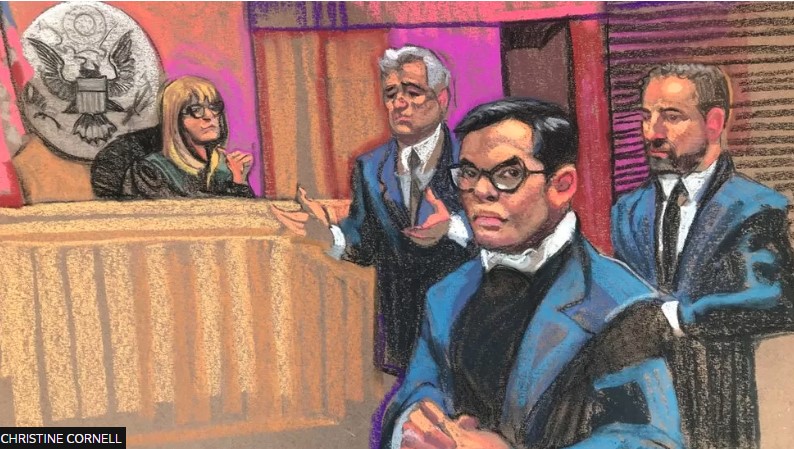 Mr Santos has been accused of participating in three elaborate fraud schemes
The Long Island lawmaker has been embroiled in scandal since he took office in January.
He has been accused of lying about his college degrees and his work experience; violating campaign finance and conflict of interest laws; falsely claiming his grandparents survived the Holocaust; and creating a fake animal charity that he used to siphon away cash meant for a veteran's dying dog.
Campaign finance forms uncovered by US media show a series of filings of $199.99, exactly one cent below the $200 threshold at which receipts are required, raising questions about how his election funds were being spent.
In a television interview in February, Mr Santos admitted to being a "terrible liar" in an attempt to be accepted by his party. But he insisted the lies were "not about tricking the people" and he denied any criminal wrongdoing.
In February, House Democrats filed a resolution to expel Mr Santos, a mostly symbolic action in the Republican-controlled chamber.
He has also previously faced calls to resign from within his own party.
"I can't wait for him to be gone," fellow New York House Republican Marc Molinaro said on Wednesday.
Senator Mitt Romney, who confronted Mr Santos at President Joe Biden's State of the Union address in February, said the New York representative should have resigned months ago. "I think we're seeing that the wheels of justice grind slow, but they grind fine," Mr Romney said.
Mr Santos recused himself from two House committees over the "ongoing attention" earlier this year, but he resisted the growing pressure to step down, announcing in April that he would seek a second term in 2024.
On Wednesday, House Speaker Kevin McCarthy said that Republicans would withhold judgement until the outcome of his case.
"In America, you're innocent until proven guilty," he told reporters after emerging from a weekly meeting with Republican House members.
He later added he will not support the re-election bid by Mr Santos.
Source==> BBC News